Is Rooibos Tea Safe During Pregnancy? It's like a never-ending list of things we can't enjoy during pregnancy – no wine, no cocktails, even our beloved caffeine needs to be monitored. And now, they're telling us that even a simple cup of tea is off-limits? Seriously, is there anything left to savor?
Affiliate Disclaimer: PregnancyBoss.com is a participant in the Amazon Services LLC Associates Program, an affiliate advertising program designed to provide a means for sites to earn advertising fees by advertising and linking to Amazon.com. This means that if you make a purchase through certain links on our site, we may earn a commission. This comes at no extra cost to you and helps support PregnancyBoss.com. We only recommend products we trust. Thank you for your support!
Well, believe it or not, amidst all the restrictions, there are actually a few types of tea that are perfectly fine to indulge in while expecting, and one of them happens to be rooibos.
We get it, it can be frustrating when it seems like every pleasurable and delightful thing is being snatched away (except for this one little pleasure, at least!). Even seemingly harmless teas like chamomile or English breakfast start raising eyebrows.
Here's the thing: just because a tea is labeled as "botanical" doesn't automatically grant it a pregnancy-friendly status.
However, let's not get too disheartened. There are only a handful of teas that are strictly forbidden during pregnancy due to potential side effects, such as black cohosh and licorice. Fortunately, rooibos doesn't fall into that category. So, rejoice! You can relish this flavorful tea without a worry while you're pregnant. And the cherry on top? It's also safe to enjoy while breastfeeding. Now, let's dive into what you need to know about this delightful brew.
Related: Is It Safe To Eat Instant Noodles During Pregnancy?
What is Rooibos Tea?
Rooibos tea, also known as red tea or redbush tea or African red tea, is an herbal infusion derived from the leaves of the Aspalathus linearis plant. This plant is native to the Cederberg region of South Africa and has been used for centuries due to its potential health benefits. Unlike traditional teas, Rooibos tea is naturally caffeine-free, making it a popular choice for those seeking a caffeine alternative.
Related: 5 Nutritious Pregnancy Smoothie
Is Rooibos Tea Safe During Pregnancy?
Rooibos tea is a caffeine-free herbal tea that is considered safe to drink during pregnancy. It is a popular alternative to coffee, black tea, and green tea, and is easy to brew at home, hot or cold.
Rooibos tea is rich in antioxidants, which protect against damage in the body by free radicals and can help to settle the stomach and relieve nausea.
It also contains several minerals that are important for pregnancy, including calcium, magnesium, iron, and potassium, which are essential for a baby's development and can help to prevent pregnancy complications such as preeclampsia.
Rooibos tea is also beneficial for heart health and can help to reduce blood cholesterol levels. It is rich in vitamin C and antioxidants, which are necessary for reducing stress and anxiety that tend to affect most pregnant women.
Additionally, rooibos tea can improve the hydration levels of the pregnant woman while giving her and the baby a good amount of integrated nutrients.
Is Rooibos Tea Unsafe During Pregnancy?
There are no known harmful substances in rooibos tea, and it is considered safe for consumption during pregnancy. However, some recent research suggests that pregnant women should be moderate with their intake.
Are there any Research on drinking Rooibos Tea during Pregnancy?
There is limited research on the risks of rooibos tea during pregnancy. One study in Japan suggested there may be a relationship between premature constriction of the ductus arteriosus (PCDA) and rooibos consumption. An infant boy was diagnosed with PCDA after his mother drank rooibos tea daily. The infant was also delivered prematurely at 36 weeks. However, this is the only known case, and more research is needed to determine if there is a causal relationship between rooibos tea and PCDA.
What are Different types and flavors of Rooibos Tea?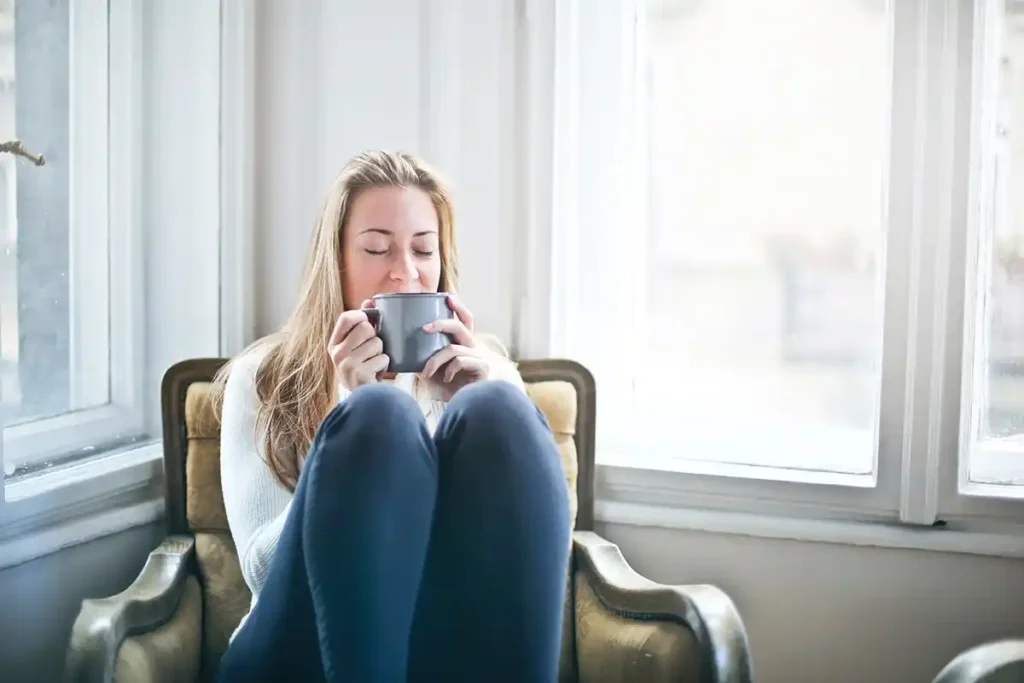 There are two main types of rooibos tea: red rooibos and green rooibos. Red rooibos is the more common of the two and undergoes a similar process to black tea, while green rooibos is less oxidized and has a milder taste. Rooibos tea can also come in a variety of flavors, including:
Rooibos Mint
Rooibos Vanilla
Rooibos Camomile
Rooibos Caramel
Rooibos Tiramisu
In addition to these flavors, there are many other rooibos tea blends available, such as banana nut honeybush, hazelnut honeybush, and pumpkin rooibos. Rooibos tea can also be flavored with bergamot orange, spices, or vanilla.
Related: How Much Folic Acid Do I Need To Have?
How does Rooibos Tea Taste?
Rooibos tea has a nutty, full-bodied flavor that is both refreshing and a great herbal substitute for your everyday tea and coffee. It stands alone and still achieves a full color, taste, and aroma. Rooibos is the only infusion that goes really well with milk – just like with your "normal" tea. Rooibos tea is incredibly smooth and gentle with a natural sweetness and slightly nutty taste. When brewed for longer, this red tea is full-bodied and rich, and you can smell the warm woody notes rising from your cup or teapot.
How to prepare Rooibos Tea?
Here are the steps to prepare Rooibos tea:
Boil water: Bring water to a boil in a kettle or on the stove.
Add Rooibos tea: Place 1 1/2 teaspoons of Rooibos tea leaves per 8 ounces of water into a teapot or infuser.
Steep: Pour the hot water over the Rooibos tea leaves and let it steep for at least 5-7 minutes. The longer the steep time, the stronger the flavor.
Strain: Remove the Rooibos tea leaves by straining the tea through a fine-mesh strainer, linen filter, or French press.
Serve: Pour the Rooibos tea into a teacup and enjoy. You can add honey, lemon, or milk to taste.
If you prefer iced Rooibos tea, follow these steps:
Double the amount of Rooibos tea leaves you would use for hot tea.
Steep the tea in hot water for 5-7 minutes.
Strain the tea and let it cool.
Pour the tea over ice and enjoy.
Remember that Rooibos tea is pretty forgiving, so you can adjust the steep time and strength to your liking.
What is the Ideal Temperature for Brewing Rooibos Tea?
The ideal temperature for brewing Rooibos tea is between 200 and 212 degrees Fahrenheit (93 to 100 degrees Celsius), which is the boiling point of water. Rooibos tea is a hardy herbal tea that can withstand high temperatures, so boiling water is recommended for the best flavor. Some sources suggest using a temperature-controlled tea kettle or French press to ensure the water temperature is accurate. The steep time for Rooibos tea is typically 5-7 minutes, but it can be adjusted to personal preference.
What is the Safe Amount of Rooibos Tea During Pregnancy?
There is no definitive answer to how much rooibos tea is safe during pregnancy, but most experts recommend limiting your intake to 2-3 cups per day. If you're wanting to drink more than 2 or 3 cups per day, it is recommended to talk to your OB-GYN first.
Conclusion
In conclusion, if you've been questioning "Is Rooibos Tea Safe During Pregnancy?" the answer is a resounding yes!
While it's true that pregnancy comes with its fair share of restrictions, rooibos tea is not one of them. Unlike some teas that need to be avoided due to potential side effects, rooibos is a safe and flavorful choice for expecting mothers. So go ahead and savor this delightful brew without any worries.
Whether you're looking for a soothing warm drink or a refreshing iced tea, rooibos can be your go-to beverage during this special time. And the best part? You can continue to enjoy its benefits while breastfeeding too. Cheers to a comforting and safe cup of rooibos tea on your pregnancy journey!
Frequently Asked Questions (FAQs)
Can Rooibos Tea cause Miscarriage?
No, there is no scientific evidence to suggest that Rooibos tea can cause miscarriage. However, it is always best to consume any beverage in moderation during pregnancy.
Is Rooibos Tea Safe for Breastfeeding Mothers?
Yes, Rooibos tea is generally considered safe for breastfeeding mothers. It is a caffeine-free herbal tea that does not pose any known risks to nursing infants.
Can I drink Rooibos Tea throughout my entire Pregnancy?
Yes, you can enjoy Rooibos tea throughout your entire pregnancy. Just remember to consume it in moderation and consider any personal sensitivities or precautions.
Are there any known side effects of drinking Rooibos Tea during Pregnancy?
In general, Rooibos tea is well-tolerated. However, excessive consumption may lead to gastrointestinal discomfort or an upset stomach. Stick to moderate amounts to avoid any potential side effects.
Can Rooibos Tea help with Morning Sickness?
While individual experiences may vary, some women find that Rooibos tea's soothing properties can help alleviate symptoms of morning sickness, such as nausea and vomiting.
Can I drink flavored Rooibos Teas during Pregnancy?
It is advisable to avoid flavored Rooibos teas during pregnancy, as they may contain additional ingredients that could pose risks or unknown effects. Stick to pure Rooibos tea for safety.