For moms, choosing which type of bottle is best for a baby involves more trial and error than it does choice. What your baby prefers will be determined by her. We'll explain the various sizes and shapes, and you can assist your child decide by experimenting with a variety of baby bottles and nipples.
Affiliate Disclaimer: PregnancyBoss.com is a participant in the Amazon Services LLC Associates Program, an affiliate advertising program designed to provide a means for sites to earn advertising fees by advertising and linking to Amazon.com. This means that if you make a purchase through certain links on our site, we may earn a commission. This comes at no extra cost to you and helps support PregnancyBoss.com. We only recommend products we trust. Thank you for your support!
What Are Different Types of Baby Bottles?
Glass, plastic, or silicone are the most common materials used to make bottles.
Glass Bottles :Glass newborn bottles were used in the decades before plastic and have lately gained appeal. While it may seem strange to feed your baby anything made of glass, the glass used for baby bottles has several distinguishing features that set it separate from regular glass. They're composed of tempered glass, which is particularly tough and can handle being bashed around and even dropped.
Plastic Bottles: Polypropylene, a strong material, is used to make plastic infant bottles. Plastic bottles are the most frequent and least expensive form of baby bottle on the market.
Silicone Bottles: Silicone bottles are the most recent additions to the market. They are composed of silicone, a soft, flexible substance devoid of chemicals such as BPA, PVC, and Phthalate. Silicone bottles are the most recent additions to the market. They are composed of silicone, a soft, flexible substance devoid of chemicals such as BPA, PVC, and Phthalate.
What Are Different Shapes of Baby Bottles?
Baby bottles come in a variety of shapes. Knowing all of your alternatives is helpful before trying one or more.
Standard baby bottles: These are straight without an angle or curve, have been used effectively for years.
Curved baby bottles: These are intended to lessen air ingestion, reduce gas, and reduce fussiness.
Baby bottles with disposable liners: These feature a hard shell (typically made of plastic) that carries a single bag of milk. The bag compresses as the infant sips, reducing gassiness. These are simple to clean, but the expense of liner replacements can be high.
Broad-neck bottles: These are short and squat with a wide opening at the top, which also results in a wider nipple, mimicking the feeling of breastfeeding. A broad neck is ideal for babies who will frequently switch between the breast and the bottle, and it also makes cleanup simple.
Vented baby bottles: These have a tube built into them to stop air pockets from accumulating in the bottle or nipple, which is intended to help prevent gas. These can be more difficult to clean because of vents and other added components.
In stores, a large variety of bottles and nipples are offered. If you need assistance selecting which type of bottle is best for your baby, consult your doctor.
What Are Different Sizes of Baby Bottles?
The majority of bottles are available in two sizes:
Smaller-sized bottles, typically approximately four ounces, are designed for newborns, who consume less each meal than older babies.
Larger bottles, which carry around eight ounces of breast milk or formula, are designed for older babies who consume more food.

As a guideline, newborns may take as little as an ounce or two at each meal, while babies as young as six months may consume six to eight ounces every feeding. Some parents purchase a variety of smaller and bigger bottles, but others purchase larger bottles from the start and only fill them halfway throughout the baby's first few months.
What Are Different Types of Baby Bottle Nipples?
Nipples are typically included with baby bottles, but they may also be purchased independently and available in a range of sizes and styles, which is especially beneficial for newborns with unique feeding needs. Try a couple different nipple sizes and types to find what works best with your kid.
Standard Nipples: While most nipple kinds resemble the contour of your breast, standard nipples are tall and dome-shaped.
Orthodontic nipples: Baby's mouth is designed to accommodate orthodontic nipples, which are wide at the tip and base and small in the center.
Flat-topped nipples: These have a larger base bulb and a flatter top, giving them a more breast-like shape.
Anti-vacuum nipples: Designed to reduce the amount of air your infant inhales in order to minimize colic and gassiness.
Multi-flow nipples: These are made to be able to deliver multiple stage flows in the same nipple, such as Stages 1 and 2. To alter the flow, change the position of the nipple.
Disposable nipples: Nipples that are sterile, individually wrapped, and useful for quick cleanup but that must be discarded after use.
What Are Different Materials of Baby Bottle Nipples?
Baby bottle nipples are made of either latex or silicone.
Latex: These are softer, can hold the odor of milk, but may wear out more quickly
Silicone: These are sturdier, easier to clean, and can last up to a year
What Are Different Sizes of Baby Bottle Nipples?
It's crucial to experiment because the nipple sizes, shapes, and flow rates need to match your baby's sucking style. The amount of milk that pours out depends on the size of the hole. Your kid could feed too rapidly, too slowly, or too much air if the opening is the wrong size.
For infants from birth to 6 months, size-one nipples have a small hole.
For older infants, sizes two, three, and four have larger holes.
Preemie-specific nipples are also available.
When you turn the bottle over down, a few milk drips should fall out of the bottle's nipple before the drip eventually stops. Try a nipple with a smaller hole if you fear the milk is flowing too quickly for your infant. Try a nipple with a larger hole if you believe your infant is becoming frustrated by sucking too forcefully.
When to Clean and Replace Baby Bottles and Nipples?
Before using new bottles and nipples, always wash them in the dishwasher or hot, soapy water. After each feeding, wash them again, and examine the nipples for damage. As your baby grows, be sure to swap out smaller nipples for larger ones, and always replace any bottle nipple that exhibits wear.
5 Best Baby Bottles
When it comes to selecting which type of bottle is best for a baby, we concentrated on a wide selection of bottles in various sizes, shapes, and purposes.
Additionally, bottles needed to offer something additional for parents, such as simple storage or fast washing, among other benefits. The nipples that came with the bottles needed to be made to encourage secure latching because nipple form and feel are also crucial for baby's successful transition to a bottle.
The best baby bottles are listed below for you to try with your infant.
1. Best Baby Bottle for Ease of Use: Philips Avent Natural Baby Bottle
Philips Avent Natural Baby Bottle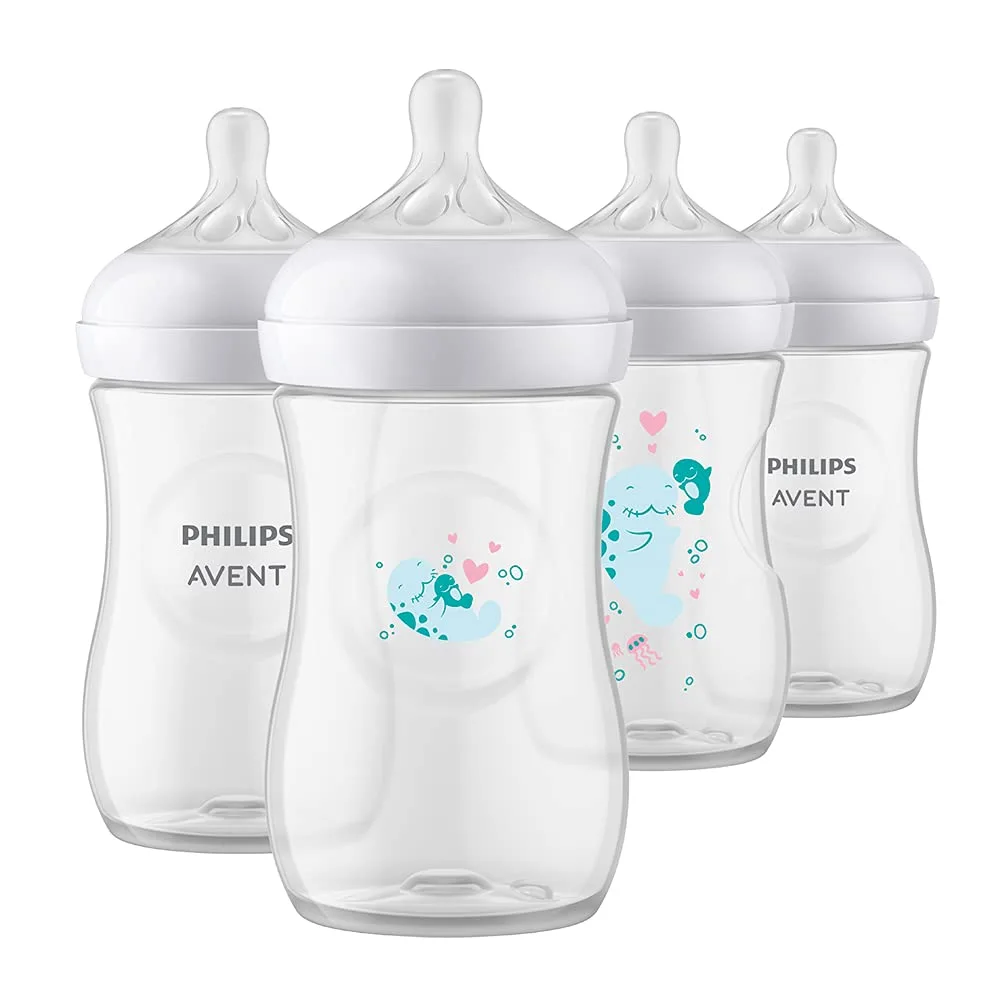 About This Item
The Philips Avent Natural bottle has the most sizes of any type we evaluated, including a small 2-ounce bottle; it is also available in glass. It's straightforward to use, with only three components and a big, easy-to-screw-on collar, and it didn't leak in our test. However, the very broad nipple may not be suitable for all newborns.
Pros
Set offers everything you need to get started
Wide bottle allows easy transfer of thawed breast milk or formula; easy to clean
Compatible with Avent and Spectra breast pumps
Glass or polypropylene options
Cons
Nipple can bend, which can take a little getting used to
Occasional leakage, the sterilization case doesn't dry bottles all the way
Measurement markings may come off over time
Why We Love It
Philips Avent Natural Baby Bottle makes for an easy transfer of breast milk or formula, has few parts for easy cleaning, and encourages a deep latch.
When you have to produce and wash bottles all day, you learn a few things about them, like how important a straightforward bottle is. I've been using Philips Avent Natural Baby Bottles for months, and despite having only three parts, I've never experienced a leak.
I like a wide bottle, even if some parents would prefer the portability of a narrower one. It entails a simpler passage of liquid, which is crucial for both mess control and investment, including time and money if you're pumping or purchasing formula.
The wide breast-shaped nipple is adored by mothers, who claim that it promotes a wide latch. We also discovered that infants can easily grasp it. If plastic bothers you, they are also available in glass.
Related: Philips Avent Baby Products
2. Best Baby Bottles for Newborns: Evenflo Balance+ Bottle
Evenflo Balance+ Bottle
About This Item
These bottles are easy to hold, features a vent to reduce gulping and air intake. These are ecofriendly and recyclable
Pros
Affordable, breast-like nipples
Compatible with Evenflo Balance+ Wide Neck Pump Adapter (sold separately)
Dishwasher safe (top rack)
Built-in venting system
Cons
Narrower bottle opening
Not compatible with Spectra pump
Nipples may be difficult to put back on bottle
Glass can break easily if bottle dropped
Why We Love It
The simple Evenflo Balance+ bottle features choices for slow-flow nipples for little kids and a nipple shape that mimics nursing experience.
When selecting which type of bottle is best for your baby, marketing and fancy designs may occasionally obscure what is most important: that the bottle works flawlessly and is reasonably priced. Evenflo's Balance+ bottles are well regarded by parents and medical professionals, and there are "slow flow" nipple alternatives available for little infants.
These bottles all have nipple shapes that are more rounded, sloping, and mimic a human nipple more closely. This prevents the latch from becoming an abrupt transition, as is the case with many other bottles, and makes it more physiologically consistent.
Related: Evenflo Baby Products
3. Best Baby Bottle for Gas and Reflux: Dr. Brown's Options+ Bottle
Dr. Brown's Options+ Bottle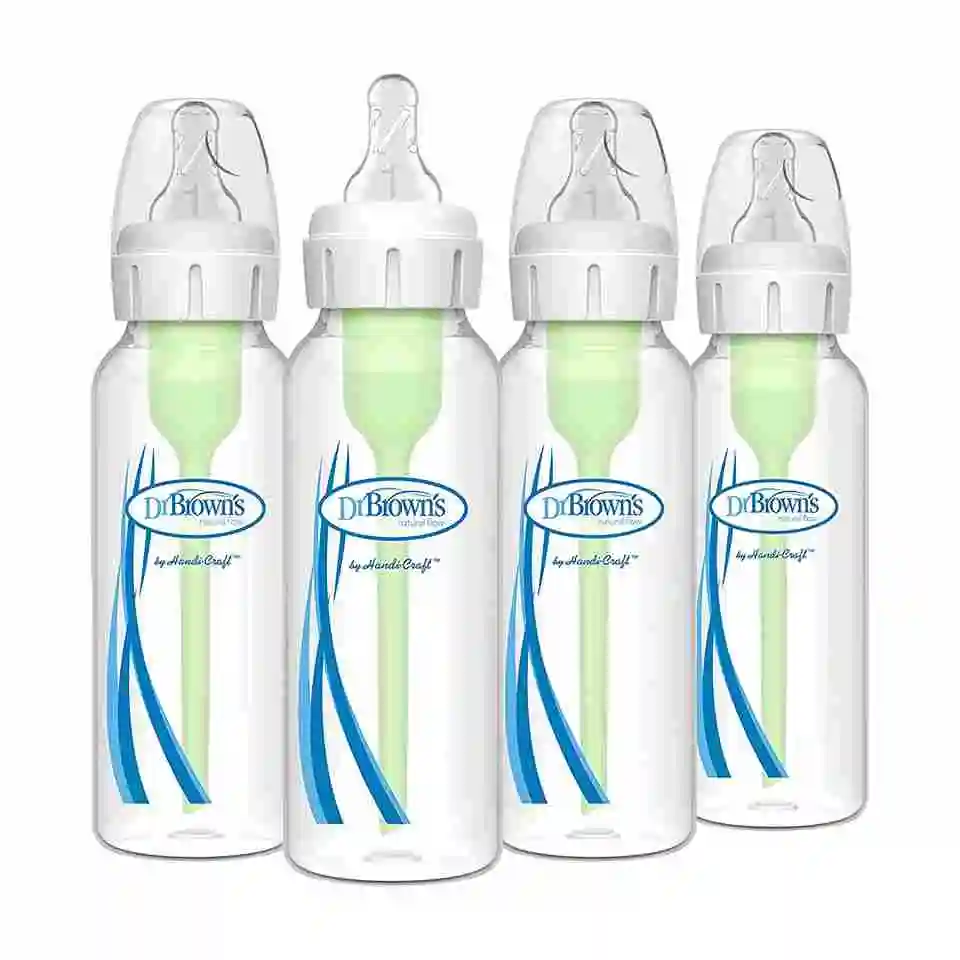 About This Item
These thin bottles are recommended by parents of colicky babies. The Options+ bottle is convertible, allowing you to use it with or without the venting system. That venting system develops with your baby, reducing the incidence of colic and gas regardless of age. Baby can also benefit from vacuum-free feeding, which provides a consistent flow so your baby can eat at her own pace.
Pros
Reflux and gassiness may be reduced using a ventilation system
Helps digestion
Can be used with or without the anti-colic vent system
The nipple venting creates a paced flow
Bottles fit most breast pumps
Available in glass or BPA-free plastic bottles
Cons
A lot of components, a hassle to clean, and some leaking
Some users report leaking with the bottles (although plenty of users do not seem to have this issue)
Why We Love It
The Dr. Brown's Options+ bottle's venting design may enable your baby to ingest less air, making it a popular choice for babies who have gas or reflux.
Due in large part to a removable venting device that is claimed to assist lessen gassiness and reflux by separating air from milk, Dr. Brown's Options+ bottles are the preferred choice for gassy babies.
Babies with reflux or colic may benefit from a preemie nipple, which has a flow rate that's difficult to obtain in other brands, and a smaller-sized nipple with a progressive slope.
Related: Dr. Brown's Baby Products
4. Best Baby Bottle for Breastfed Babies: Lansinoh Baby Bottle
Lansinoh Baby Bottle
About This Item
The Lansinoh had a gently sloping nipple, which experts said was good for many babies. With only three components and a broad opening, this bottle is easy to use and clean, and it spilled less than the majority of the others we tried.
Pros
Affordably priced, gradually inclined nipple facilitates deep latch
Why We Love It
These Lansinoh bottles are our top choice because of their smaller size and breast-like nipple, which makes it easier for newborns to move between the bottle and the breast.
The Lansinoh Breast Milk Feeding Bottle is another bottle that frequently goes unnoticed in favour of more popular rivals. These bottles' nipples slope more gradually, making it simpler for babies to transition from bottle to breast.
Additionally, a newborn can more easily get the entire nipple into their mouth because of the curve of the nipple. Thus, feeding from a Lansinoh bottle is somewhat more physiologically similar to breastfeeding, when a baby receives both the areola and tip of the nipple in their mouth.
These bottles are very simple to clean as they just have a few pieces. Moms also mentioned that they preferred the smaller size that fit neatly into a purse or diaper bag.
Related: Lansinoh Baby Products
5. Best Baby Bottle for Pumping: Medela Breast Milk Bottle
Medela Breast Milk Bottle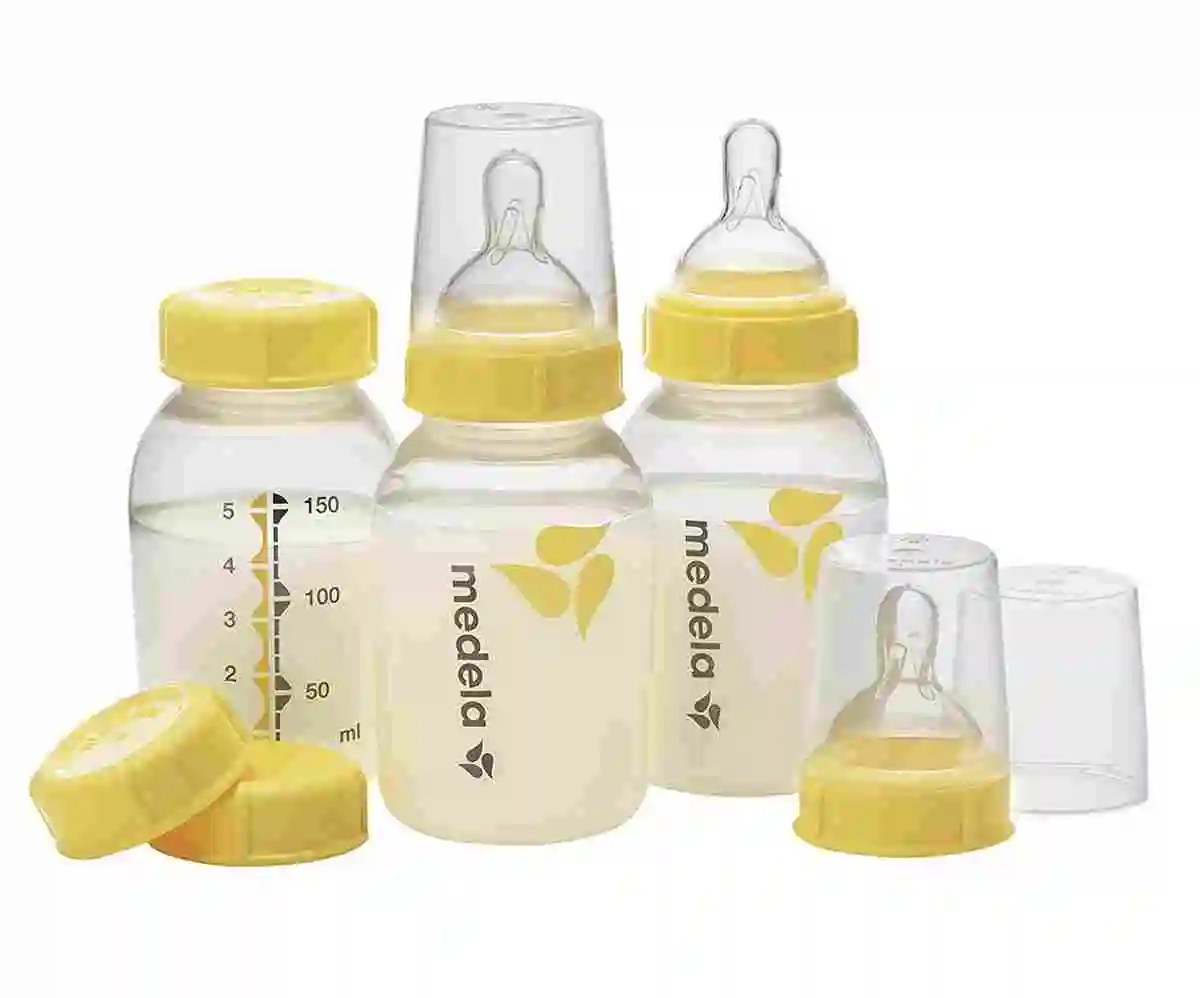 About This Item
The bottles from the Medela serve three functions: you pump straight into them, store your milk in them, and then screw on the nipple to use them as a bottle. Even better, there are no internal components to connect or clean.
Pros
Very practical to feed from what you pump into
Compatible with all Medela breast pumps
Dishwasher safe
Multipack option
Cons
Flow a little bit quicker, narrow top
Limited volume options
Less flexible nipple than other bottles
Lids may pop off easily
Why We Love It
Convenience and functionality are combined in Medela Breast Milk Bottles, produced by a well-known breast pump company.
Pumping mothers don't want to clean any more components than necessary, so it's important to know about bottles that you may use for both feeding and pumping, especially if you solely pump.
Breast milk bottles from Medela are suitable and have storage lids.

Leading manufacturer of breast pumps, Medela's products are frequently covered by health insurance.
You won't require new bottles just because a new version of your breast pump is released because Medela's bottles are compatible with all of the brand's breast pumps. Although the bottles' tops are narrower than those of similar products on the market, you won't probably need to transfer milk if you're pumping into them. Compared to other bottles, they frequently flow more quickly.
Related: Madela Breastfeeding Products
Best Bottle Brush
OXO Tot Bottle Brush with Stand
OXO Tot Bottle Brush
About This Item
This brush worked up a better lather and was easier to fit into narrow-neck bottles than others we tested.
Pros
There are ventilation holes to help the nipple cleaner dry fast.
This brush has its own stand, which will help it stay fresh.
Dishwasher safe so you can clean the brush with ease.
Cons
This brush is large and won't fit well into smaller bottles.
The bristles tend to get flattened fairly quickly with repeated use.
Why We Love It
This brush has every feature that a bottle brush should have. The brush head includes two types of bristles to accommodate whether you need delicate cleaning or something to scrub away layers of film.
It also has a flexible neck, which is something that all good bottle brushes should have. It features a rubberized grip on the end of the brush, so it won't fall out of your hands when you're frantically scrubbing. Moms may appreciate the included silicone nipple cleaner, which will assist keep nipples and breast pump parts clean.
Final Thought
That concludes our list of the top five bottles to consider purchasing. As parents, we do everything we can to ensure the best possible growth of our children. The most crucial thing is ensuring your child get adequate nutrients. Finding the perfect bottle and nipple for your child is critical to ensuring that they are properly nourished and developing – regardless of material, shape, or size. We hope we were able to answer your question of which type of bottle is best for a baby?
FAQs
Which Bottle is Best for Baby Glass or Plastic to Steel?
Doctors recommend storing baby's milk or water in glass or steel bottles since heat from the liquid reacts with plastic bottles. When you feed your child, the water or milk may contain plastic elements, which glass and steel bottles do not have.
Can I Switch Between Bottle and Breast?
Breastfeeding can be combined with bottle-feeding using formula milk or expressed breastmilk. It's also known as mixed or combination feeding. If possible, wait until your baby is six to eight weeks old before attempting combo feeding.
Do Babies get Milk Faster from Breast or Bottle?
Babies typically drink more milk from a bottle than from the breast. Overfeeding is more likely with the bottle's quick, constant milk flow.
How Many Bottles Should you have for a Baby?
The basic norm for the number of baby bottles required ranges from 4 to 12, depending on whether you want to use formula or breastfeed. It is ideal to have at least 8-10 bottles on hand before the birth of your child.
How Long Should Bottle-Feeding Take?
Bottle-feeding should take around 15-20 minutes. If the infant drinks the bottle in 5-10 minutes, the flow will most likely be rapid. If your infant takes 30-45 minutes to drink a bottle, the flow is too sluggish. To fit your baby's demands, consider altering the bottle and nipple.
What Keeps a Baby Full Longer Breast Milk or Formula?
Because breastmilk is so quickly absorbed, newborns wake up more frequently to feed. Casein, which is more difficult for newborns to digest and hence keeps them fuller for longer, is the main component of formula protein.
Related: How Do I Prepare for Breastfeeding?