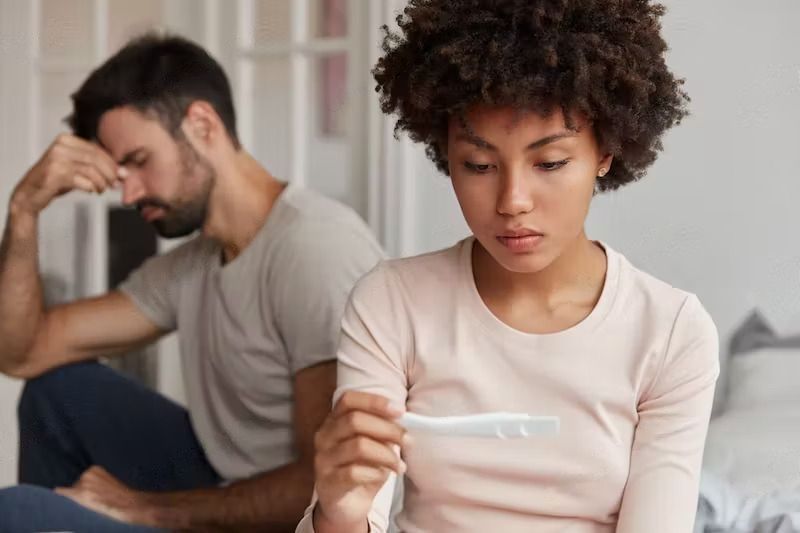 When you and your partner have decided to start a family, the thought of not getting pregnant can be overwhelming. You may feel like you're the only one experiencing this delay, especially when babies are born every day. The pressure of trying to conceive and waiting for something that may never come can leave you feeling frustrated, stressed, or even hopeless. Don't worry, though – you're not alone. Many couples struggle with pregnancy not happening as quickly as they had hoped.
In this article, we will explore the possible reasons why you might not be getting pregnant and offer 14 potential causes to help you understand what may be going on.
Affiliate Disclaimer: PregnancyBoss.com is a participant in the Amazon Services LLC Associates Program, an affiliate advertising program designed to provide a means for sites to earn advertising fees by advertising and linking to Amazon.com. This means that if you make a purchase through certain links on our site, we may earn a commission. This comes at no extra cost to you and helps support PregnancyBoss.com. We only recommend products we trust. Thank you for your support!
Why Pregnancy Not Happening: Understanding the Basics
Let's take a little journey into the fascinating world of fertility, shall we? First things first, let's talk about the basics of how pregnancy happens. When a woman ovulates, her ovaries release an egg, which embarks on an epic journey through the fallopian tubes. Along the way, if it happens to meet a sperm and gets fertilized, it snuggles up in the cozy lining of the uterus and voila – pregnancy begins! Unfortunately, this process isn't always smooth sailing due to hormonal imbalances, ovulation disorders, or issues with the reproductive organs. But don't worry, we'll explore these factors in more detail soon enough.
                                                   Do You Know?

                 Infertility affects approximately 10-15% of couples worldwide.
How is Infertility defined?
Infertility is generally defined as the inability to get pregnant (conceive) after one year or longer of unprotected sex. However, for women aged 35 years or older, some healthcare providers may evaluate and treat them after 6 months of unprotected sex due to the known decline in fertility with age.
Why Pregnancy Not Happening? 14 Possible Reasons
Irregular Sex
This may seem like an obvious one, but it is something that many couples overlook. You need to make sure that you are having regular, unprotected sex. The more frequently you are having unprotected sex, the better your chances are of conceiving. Scientists have found that couples who have sex every two days have a 13% chance of getting pregnant each month. If you're having sex less frequently than this, your chances drop to less than 5%.
Irregular Menstruation Cycles
If you have irregular menstruation cycles, you may have trouble getting pregnant. The reason for this is that when you don't ovulate regularly, your body may view the fertilized egg as a foreign object and try to remove it from your body. You may notice that you have some light bleeding about a week after you have sex. This is due to the fertilized egg being released from your body. You can try to regulate irregular menstrual cycles by keeping a menstrual calendar. This will allow you to work out when you are most likely to be ovulating in your cycle.
You can also try to keep a food diary. If your hormones are out of balance, then you may be more likely to have irregular periods. Certain foods can help to regulate hormones, such as eggs, dairy, salmon and almonds.
Absence of Ovulation
One in four infertile couples experience ovulation abnormalities, such as persistent anovulation or infrequent ovulation. You won't conceive during an anovulatory cycle since you can only become pregnant if you release an egg. If you have been trying to conceive for a while and you haven't been following a regular ovulation calendar, then you may want to seek medical help sooner rather than later.
Blocked or Defective Fallopian Tubes
Fallopian tubes are damaged or clogged in about 30% of women who are given an infertile diagnosis. The term "tubal disease" or "tubal occlusion" are other names for this illness.

The female body's fallopian tubes, which connect the ovaries and the uterus, are a reproductive organ. The fallopian tubes receive the woman's eggs as she ovulates, which occurs. The sperm moves from the vagina through the uterus to the fallopian tubes, where it connects with the egg and may fertilize it.

To get pregnant, the fertilized egg must pass via the fallopian tubes and then the developing embryo must pass through the uterus. By obstructing the sperm's ability to reach the egg or the fertilized egg to the uterus, damaged or clogged fallopian tubes might prevent a woman from becoming pregnant.
Endometriosis
Infertility affects about 30% of endometriosis patients. The following are believed to be the causes:
Issues with egg quality.
Scarring of the tubes and ovaries.
Alterations to the pelvic organs, such as adhesions with scarred pelvic tissue and fallopian tube obstruction.
Issues with the embryo's passage through the tube and its ability to implant in the uterine wall.
The majority of endometriosis sufferers will become pregnant on their own, so it's crucial to keep that in mind. Seventy-five percent of women with severe endometriosis (stage III/IV) who do wish to get pregnant will be able to do so, two-thirds naturally and one-third with IVF assistance.
Just as there are some women who do not have endometriosis or other health difficulties yet are unable to conceive, not all women with endometriosis will be able to have a child.
Irregular Uterus Shape
A fertilized egg may find it challenging to attach to the uterine wall if the uterus is formed abnormally. Uterine fibroids, which are benign growths on the uterine wall, as well as scar tissue after an infection or surgery, might result in abnormalities. Your uterus's shape may possibly be to blame.
Related: Fibroids and Pregnancy – All You Have to Know About It
Male Fertility Issue
If your partner has a semen quality issue, then you may struggle to get pregnant. Sperm motility is a key factor in getting pregnant naturally and it helps to guide the sperm towards the egg. Sperm motility is the speed at which the sperm swim and it is one of the most important factors in getting pregnant. If your partner has a low sperm motility, then you are less likely to get pregnant naturally. You may notice that it takes a long time to conceive or you may never conceive at all. Your partner can correct a low sperm motility problem by adopting a healthier lifestyle or trying some natural fertility boosters.
Age-Related Infertility
The whole number of eggs a woman will ever have are present at birth. The amount and quality of her eggs decline as she does. The one factor that has the most impact on a woman's fertility is her age. The benefits of being healthy outweigh the negative consequences of aging on a woman's fertility, even though they increase the likelihood of getting pregnant and delivering a healthy kid.

There is a 25–30% risk of pregnancy per month for women in their early to mid-20s. Early in a woman's 30s, fertility often starts to decline; beyond 35, it does so more quickly. Around 5% of women over 40 will become pregnant at some point during any given month.
History of Sexually Transmitted Infections
Both women and men may have infertility due to sexually transmitted illnesses. By advancing up the reproductive system and spreading to the woman's uterus, ovaries, and fallopian tubes and causing injury, scarring, or inflammation, infections that cause infertility can emerge when STDs are left untreated. PID (pelvic inflammatory illness) and fallopian tube damage are the two main causes of infertility linked to STDs.
Related: Sexually Transmitted Infections
Unhealthy Lifestyle
Your pregnancy might be greatly affected by your lifestyle. Avoiding substances such as drugs, alcohol, smoke, chemicals, poisonous compounds, etc., and doing regular exercise and eating a balanced diet, will assist you and your unborn child stay healthy throughout pregnancy.
Increased Stress
Since excessive amounts of cortisol, a stress hormone, can harm ovulation and fertility, high levels of stress can play a very significant role in preventing pregnancy. However, when it comes to fertility, we're not talking about the normal everyday stress that we all encounter, but rather high amounts of chronic stress.
Some people may get even more anxious after knowing how stress might affect their chances of becoming pregnant, similar to how being urged to "just relax" doesn't actually make you feel more relaxed. Therefore, talking to a therapist and incorporating other stress-reducing strategies into your life might be useful if you're having problems controlling your stress. Stress-reduction techniques include mindfulness exercises, yoga, writing, and meditation.
Concerns About Weight
It could be difficult to get pregnant if you are overweight or underweight. It is preferable for women to fall within the appropriate BMI range and to keep the optimum waist to hip ratio. Men should also maintain a healthy weight as their semen quality is affected. To maintain a healthy weight, attempt to work out for 30 minutes at least three to four times a week.
Autoimmune Disorders
The immune system of the body attacks normal bodily tissues that it would otherwise disregard due to autoimmune illnesses. Fertility may be impacted by autoimmune diseases such as rheumatoid arthritis, Hashimoto's thyroiditis, or lupus. The causes of this are unclear and vary between disorders, although they are believed to be related to uterine and placental inflammation or drugs used to treat the illnesses. Antibodies that target sperm or the reproductive system can be produced by both men and women.
Certain Medications
The fertility of certain women may be affected by pharmaceutical drugs as they can prevent ovulation. A woman with a history of depression may have a lower chance of spontaneously conceiving if she takes certain antidepressants or antipsychotics, according to research. Therefore, your chances of getting pregnant lowers if you are taking any depression or psychotic medications, epileptic medications, thyroid medications, cough syrup, skincare and hair products containing phthalates and parabens, steroids, lubrications, douching, etc.
Never, however, discontinue taking a drug without first consulting your doctor. Consult a healthcare professional if you are worried that a medication you are taking could be preventing you from getting pregnant. They might need to switch you to a new drug, have you attempt a different kind of therapy, or reassure you that the medicine isn't the problem.
Do I Need Infertility Treatment?
Whether or not you need infertility treatment depends on your individual situation. Here are some factors to consider:
How long you have been trying to conceive: In general, a couple does not need to seek medical help for infertility until they have tried to conceive for one year or have an obvious problem or a condition that is interfering with conception. However, women over the age of 35 should have an evaluation if they have been trying to conceive for over 6 months.
Your age: Women's fertility declines with age, so if you are over 35 years old, you may want to seek medical advice sooner than later.
Your partner's health: Infertility is a couple's disease, so both partners should be evaluated. Men should check what their plan covers for semen analysis and male infertility care.
Your insurance coverage: Maternity and newborn care are considered essential benefits under most health plans, but infertility care often is not. If you have a choice of health care plans, you'll want to pick one that offers as much coverage as possible.
Any underlying medical conditions: If you have a medical condition that is known to affect fertility, such as endometriosis or pelvic inflammatory disease, you may want to seek medical advice sooner.
What Medical Tests can help Diagnose Infertility?
Medical tests can help diagnose infertility in both men and women. Here are some of the tests that may be used to diagnose infertility.
Tests for Women
Blood tests: Samples of blood can be tested for hormones such as progesterone to check whether you're ovulating. Blood tests can also measure thyroid function, levels of the hormone prolactin, and ovarian reserve.
Urine tests: A urine test can tell when and if you ovulate.
Chlamydia test: Chlamydia is an STI that can affect fertility.
Ultrasound scan: An ultrasound can be used to examine the uterus, ovaries, and fallopian tubes to find problems.
X-ray: An X-ray test can check to see if the fallopian tubes are open.
Laparoscopy: A laparoscopy may be used if it's likely that you have a problem, such as if you've had an episode of pelvic inflammatory disease (PID) in the past, or if scans suggest a possible blockage of one or both of the fallopian tubes.
Tests for Men
Physical examination: The GP may check the testicles to look for any lumps or deformities, and the penis to look at its shape, structure, and any obvious abnormalities.
Semen analysis: A semen analysis can check the number, shape, and movement of sperm.
What are the Success Rates of different Fertility Treatments?
The success rates of different fertility treatments can vary depending on several factors, including the specific treatment, the cause of infertility, and the age of the individuals involved. Here is an overview of the success rates:
How to prepare for a Doctor's Appointment?
Preparing for a doctor's appointment at a fertility clinic can help ensure that you make the most of your visit. Here are some steps to consider:
Gather medical records: Collect any relevant medical records, including previous test results, imaging reports, and documentation of any previous fertility treatments or procedures. These records can provide valuable information to the doctor and help guide the evaluation process.
Write down questions: Before your appointment, make a list of questions or concerns you have about your fertility journey. This will help ensure that you address all your queries during the appointment and make the most of your time with the doctor.
Prepare your medical history: Be ready to share your detailed medical history, including any pre-existing medical conditions, surgeries, medications, and lifestyle factors that may impact fertility. This information will assist the doctor in understanding your unique situation and determining the appropriate course of action.
Bring insurance information: Have your insurance information readily available, including your insurance card and any necessary documentation. This will help the clinic staff understand your coverage and guide you through the financial aspects of fertility treatment.
Consider emotional support: Fertility appointments can be emotionally challenging. It may be helpful to bring a supportive partner, family member, or friend to the appointment for emotional support.
Be prepared for a lengthy appointment: Initial fertility appointments often involve a comprehensive evaluation and discussion of various aspects of your fertility journey. Be prepared for a longer appointment duration.
What Questions should I ask my Doctor during the Appointment?
Here are some questions you may want to ask your doctor during a fertility clinic appointment:
What is my infertility diagnosis, and what does it mean?
What are the potential causes of my infertility, and what tests do you recommend to determine the cause?
What are the success rates of different fertility treatments for my specific situation?
What are the risks and benefits of each fertility treatment option?
What lifestyle changes can I make to improve my chances of conceiving?
How long should I try a particular fertility treatment before moving on to another option?
What are the costs of different fertility treatments, and what is covered by my insurance?
Are there any clinical trials or research studies that I may be eligible for?
What is the likelihood of multiple pregnancies with fertility treatments, and how will that be managed?
What is the clinic's policy on communication and follow-up care?
What is the clinic's success rate for the specific fertility treatment I am considering?
What is the experience and qualifications of the healthcare team?
What is the clinic's approach to patient care and support?
Are there any lifestyle changes I should make to improve my chances of conceiving?
What are the next steps if the initial treatment is unsuccessful?
Asking these questions can help you better understand your fertility situation, the available treatment options, and what to expect during the treatment process. It is important to remember that these are just examples, and you should ask any questions that are relevant to your specific situation.
Conclusion
In conclusion, pregnancy not happening can be a challenging and emotional experience for many couples. However, it is essential to remember that there are numerous reasons why you may not be able to conceive, and it's not always due to something you are doing wrong. The key is to remain hopeful and to seek the right medical advice to understand the underlying causes. By identifying the reasons behind your struggles, you can take the necessary steps towards correcting any issues and increase your chances of pregnancy. In many cases, making healthier lifestyle choices can also help to improve your chances of conceiving.
Remember to take care of yourself both physically and emotionally, and don't hesitate to reach out for support if you need it.
Frequently Asked Questions
How Long Should I try to Conceive before Seeking Medical Help?
If you're under 35, you should try to conceive for at least one year before seeking medical help. If you're over 35, you should seek medical help after six months of trying.
Can Male Infertility be Treated?
Yes, male infertility can be treated. Treatment options include medications, surgery, and assisted reproductive techniques such as intrauterine insemination (IUI) and in vitro fertilization (IVF).
Can Lifestyle Changes Improve Fertility?
Yes, lifestyle changes such as quitting smoking, reducing alcohol consumption, and maintaining a healthy weight can improve fertility.
Can Stress cause Infertility?
Yes, chronic stress can cause hormonal imbalances that can interfere with fertility.
Can Endometriosis be Cured?
Endometriosis cannot be cured, but it can be managed with medication or surgery.
Can Thyroid Disorders Affect Male Fertility?
Yes, thyroid disorders can affect male fertility by causing hormonal imbalances.