Pregnancy is a special time for expectant mothers, but it can also bring discomfort and pain in the belly and back. This is where pregnancy support belts come in to play a crucial role in offering support and comfort during pregnancy. Pregnancy support belts are specially designed to wrap around the waist and support the belly, reducing pressure on the back and hips, and improving posture. In this article, we will be discussing the best pregnancy support belts available in the market to help expectant mothers have a comfortable pregnancy.
Related: 16 Causes of Pelvic Pain During Pregnancy and How to Get Relief?
What is a Pregnancy Support Belt?
A pregnancy support belt also know as pregnancy support band/maternity support belt/pregnancy belly support belt/pregnancy back support belt/girdles/compression garments is a special type of support garment designed specifically for expectant mothers. It is typically worn around the waist and offers extra support to the lower back and pelvis, helping to alleviate pressure on these areas and reduce the risk of injury.
Related: Seaweed Body Wrap During Pregnancy – Is it Safe?
How Does a Pregnancy Support Belt Work?
A pregnancy support belt works by providing extra support to the lower back and pelvis, helping to distribute the weight of the baby more evenly across the body. This reduces the pressure on these areas and helps to alleviate back pain and reduce the risk of injury.
What are the Benefits of Wearing a Pregnancy Support Belt?
There are many benefits to wearing a pregnancy support belt during pregnancy, including:
Alleviating back pain and discomfort
Reducing the risk of injury
Improving posture
Reducing the risk of premature labor
Improving circulation
Related: Back Pain During Pregnancy: 7 Tips For Relief
What to Look for When Choosing a Pregnancy Support Belt?
When choosing a pregnancy support belt, there are several important factors to consider, including:
Comfort: It is important to choose a pregnancy support belt that is comfortable to wear, especially if you plan to wear it for long periods of time.
Support: The main purpose of a pregnancy support belt is to provide extra support to the lower back and pelvis, so it is important to choose a belt that offers adequate support in these areas.
Adjustability: As your baby grows, your body will change, so it is important to choose a pregnancy support belt that is adjustable, allowing you to adjust the level of support as needed.
Material: The material of the pregnancy support belt should be breathable and soft, to prevent irritation and ensure comfort during extended wear.
When to Start Wearing a Pregnancy Support Belt?
It is important to note that these products can be worn at any stage during or after pregnancy, although they are often most beneficial to women in their second and third trimesters. The average recommended time to start using a pregnancy support belt is around 20 weeks. It is always advisable to consult with your healthcare provider before starting to use any type of pregnancy support product to ensure it is the right fit for you and your specific needs.
How Long to Wear Pregnancy Support Belt?
It is recommended not to wear a pregnancy support band for more than two to three hours at a time. Prolonged use of the band for extended periods of time can potentially lead to weakened muscles and other long-term negative effects. It is important to follow the manufacturer's guidelines for usage and to consult with your healthcare provider if you have any concerns. By using a pregnancy support band in a safe and responsible manner, you can help ensure a comfortable and healthy pregnancy.
How to Use the Pregnancy Support Belts?
To wear a pregnancy support belt, follow these steps:
Place the band around your waist, ensuring that the Velcro fasteners are at the front.
Adjust the band to the desired level of support, making sure it is not too tight.
Fasten the Velcro tabs in place, making sure they are secure.
Ensure the band is in the correct position, providing support to your back and belly.
It's important to follow the manufacturer's instructions for specific sizing and placement guidelines, and to also speak with your healthcare provider to make sure that wearing a belly band is safe for you and your pregnancy.
How To Measure for the Correct Size of a Pregnancy Support Belt?
The following methods can be used to measure the correct size of a pregnancy support belt:
Waist measurement: Take a measurement around your waist at the widest point, which is typically just above your belly button.
Hips measurement: Measure around the fullest part of your hips and buttocks, which is usually about 7 to 9 inches below your waist.
Combined waist and hips measurement: Add the waist and hips measurements together and select the belt size that corresponds to that total measurement.
Pre-pregnancy clothing size: Use your pre-pregnancy clothing size as a guide to select the correct belt size.
It is important to measure yourself accurately to ensure that you get a belt that fits properly and provides the support you need during pregnancy.
Best Pregnancy Support Belts
OPTP Maternity SI-LOC® S/M
It features a lightweight and breathable fabric with an easily adjustable "no buckle" design that easily blends in beneath their clothes. With the ability to alleviate low back pain and spasms, as well as referred pain in the hip, pelvis, or sciatic pain extending down the legs, SI-LOC® has truly raised the bar in terms of efficacy. Users of this product describe instant relief of their lower back and hip pain immediately after using the OPTP belt. Its patented tapered design, which is wider at the innominate, ensures even pressure distribution, making it comfortable to wear for extended periods while providing steady support to the SI joint. The non-slip, medical-grade pads and dual hook-and-loop closures work in tandem to keep the SI-LOC® securely in place and the anti-slip buckle adjustable to the user's comfort.
Customer Reviews: 4.1 out of 5

I can't leave home without it! I have multiple back problems and wearing this belt keeps me from being in constant pain and the awful tingling. I was first introduced to the belt by my chiropractor and when it wore out, I did not hesitate to purchase this one on Amazon. I will say that the only down side for me is that you can detect it underneath your clothing, therefore I have to buy clothes that conceal the belt. If you wear form fitting clothing, this is not the belt for you, but if you want to eliminate pain – buy it!
– Vikki

I'm heavier set and 30w pregnant with major PSD and si issues. This works wonderfully! I'm able to get more done while it's on as it holds my joints and bones together!
– Julia
Pros
Made with medical-grade non-slip pads
Anti-slip buckle
Tapered design for even pressure distribution
Cons
The company doesn't offer return or exchange
Velcro wears out after a while
Gabrialla Elastic Maternity Belt, Strong Support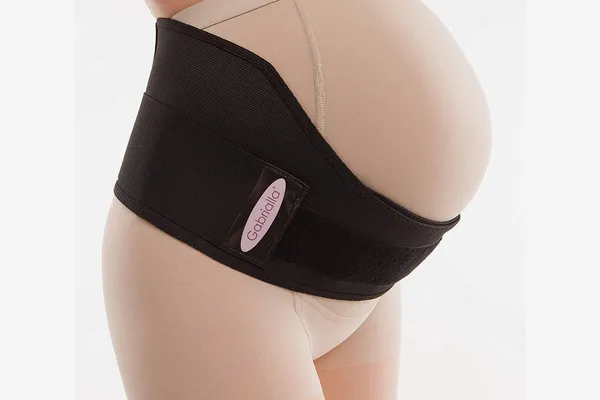 The Gabrialla Elastic Maternity Support Belt has been carefully crafted to cater to the specific needs of expectant mothers, offering unparalleled support to help them stay healthy, comfortable, and active throughout pregnancy. It effectively combats the aches, back pains, and stresses that can linger for months or even years after childbirth, making it a must-have for all expectant mothers. The belt provides additional compression to stabilize the hips, which are prone to ligament loosening due to pelvic expansion and relaxation. This compression helps to alleviate pressure in the lower back, promotes warmth for flexible muscles, and fosters therapeutic healing. The belt boasts a nine-inch wide back with four sturdy spring metal stays and two additional pulls for better adjustment, ensuring maximum comfort and effectiveness.
Customer Reviews: 4.1 out of 5

I have long term sacroiliac joint instability and the pregnancy had also started to cause severe lumbar tightness/spasm. I stand/squat a lot for my job and take long walks frequently. This belt has made a massive difference for both areas of back pain. I don't find it comfortable when sitting so I remove for that but otherwise it moves well with me. I also have sensitive itchy skin and so far no concerns wearing it right against my belly. Been using daily from 20-25 weeks pregnant.
– A&SHay

I started wearing this while working out at about 16 weeks pregnant and it has been a god send through week 36. Have been able to run without too much pain/pressure.
– Megan
Pros
Comes in different colors and sizes
Made of skin-friendly materials
Keeps belly stable
Increases blood flow to right places
A3-way adjustable fit
Cons
May be seen under clothes
Elastic may stretch out
Bulky
Baby Belly Band Original Maternity Support Belt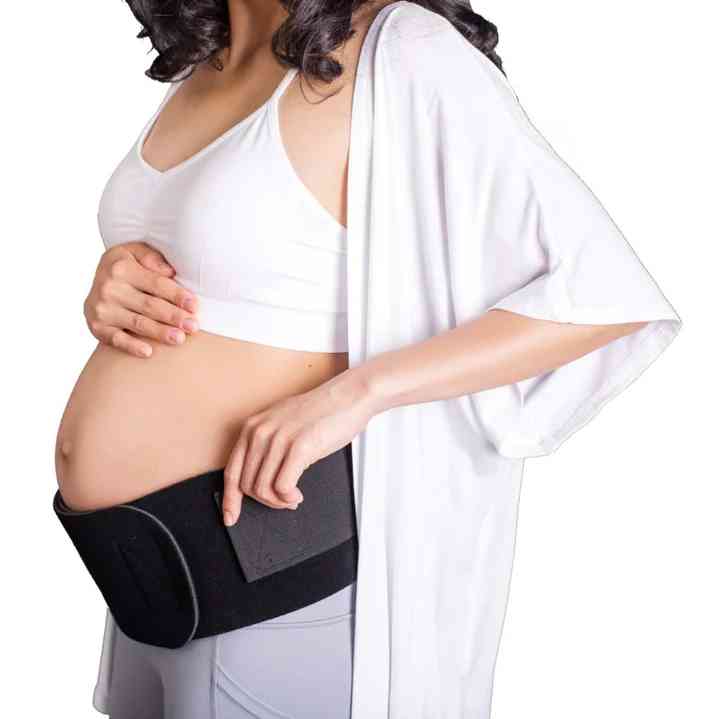 The Baby Belly Pelvic Support band, created by experienced physiotherapist Diane Lee, offers relief from pelvic pain from all angles. It can be attached to the front or the back, depending on whether you're suffering from symphysis pubis dysfunction (SPD) in the front or sacroiliac joint pain (SI) in the back. The maternity belt also adjusts to accommodate changes throughout your pregnancy.
Customer Reviews: 4 out of 5

I ordered a few different belly bands & this one ended up being my favorite! I needed more squeezing/tension on my hips as that was the causing my pain as opposed to lifting my pregnant belly up. Having the initial band fitted around then using the stretchy band to increase the tension was great. I did have to adjust them when I sat down. So if you are up and down a lot this may not be the best option.
– Kami Leatherwood

I love this product. I use it every day. It gives me the support I need and the sizing is really great. I really recommend this product to anyone specially to any plus sized woman who's having issues finding a well fitted/comfortable band. GOD BLESS.
– Rosanna Yan Courtney
Pros
Provides lower back support
Can be used post-pregnancy
NEOtech Care@ Maternity Belt – Pregnancy Support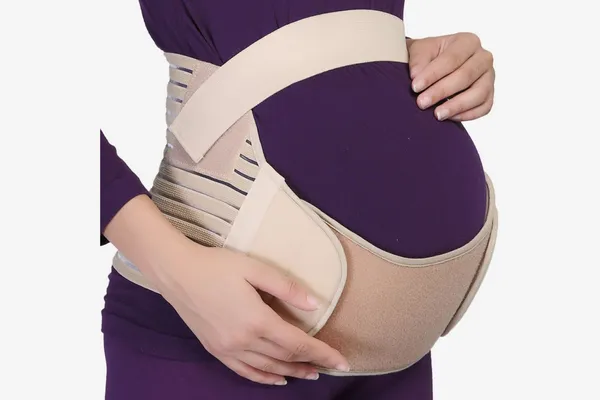 NeoTech Care's pregnancy belt has garnered a significant following, with almost 30,000 users raving about the instant relief it provides. The product's large, flexible back area conforms to your shape and helps relieve lower back pain by redistributing the weight of your growing belly. Additionally, the over-the-bump strap offers superior support by fully embracing your bump from top and bottom, as opposed to just below the belt like traditional maternity belts. The belly band also addresses hip, pelvic, and sacroiliac discomfort.
Customer Reviews: 4.2 out of 5

I was pregnant with a 14lbs baby and work in a doctors office on my feet for hours at a time up until I went into labor. The doctor I work for advised me to get a support belt and found this one. Let me tell you my back pain was substantially less after the first time I wore this. It's not pretty but very well made and supportive. I wore this 5 to 6 times a week for about 6 hours a day. And it lasted 4 months.
– Cat Thompson

I was struggling so hard in my third trimester with back pain and extreme lower pelvic pressure, everything I did required me to sit down constantly but after I got this, I started wearing it daily at work and at home and WOW, instant relief. I wish I would've known about it sooner! The price is just unbeatable too as any support you find in store at buy buy baby or anywhere else is around $50 and not nearly as supportive! Definitely recommend.
– Tayler
Pros
Wide range of sizes available, accommodating bumps up to 60.5 inches in circumference
Multi-layered laminate with a cotton/nylon ELASTIC lining
Fully adjustable to accommodate belly growth
Lightweight and breathable fabric
Cons
Bulkier design
Must be removed when sitting
BABYGO® Belly Support Band
This belly support band is offered in an extensive spectrum of sizes, accommodating expectant mothers from size 2 to 20 with ease. It's not just the size range that sets this maternity belt apart – it's also available in an array of three distinctive hues. What truly makes this maternity belt a standout, though, is its exceptional design that evolves with you throughout pregnancy and postpartum recovery. This multi-functional wonder can be worn as a belly band, support band, or maternity belt, expertly crafted to alleviate sciatic pain, decrease swelling, soothe round ligament discomfort, alleviate back and pelvic pain, and much more.
Customer Reviews: 4 out of 5

OmG best belly support I've had. This is my third pregnancy and I wish I'd got it sooner.
– Trelynn Roberts

I've been suffering from back and pelvic pain since the 2nd trimester, some days are much worse than others but I ordered this belt after reading reviews and so glad I did. This belt helps me so much on a bad day and just helps me move about, I use mine when I'm going shopping or know I'm going to be walking around for a few hours and it makes such a difference! I wear mine over a vest because I don't find it very comfortable directly on skin. Worth every penny.
– Katie Clark
Pros
Back and belly support
Wide range of sizing options
Belt transitions as your pregnancy progresses
Cons
Design may not be comfortable for everyone
Lines from the belt will likely be seen under clothing
Belly Bandit Upsie Belly Belt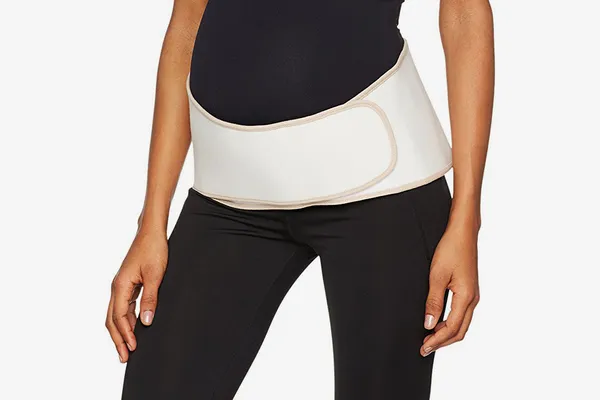 Our favorite choice for pregnancy-related back pain is this support belt for several reasons. It eases the burden on your back muscles by redistributing belly weight. Furthermore, it includes a hot-and-cold gel pack that can be easily inserted into the back pocket of the band, providing additional comfort for your aching muscles. Additionally, the belt helps improve posture and stability as your center of gravity changes, thus alleviating back pain.
Customer Reviews: 4.4 out of 5

I am a 28 week pregnant working mom with 2 toddlers. I have severe hip and back pain. The belt comes with a freezer/heating pad that fits into a back pocket inside the belt which helps soo much with my back pain. Love it. Only thing I'd say is that it puts a lot of pressure on my bladder… but that's obvious.
– Elise Baker

Worth every penny! Supportive!!! I have been exercising throughout pregnancy lifting weights spinning etc and work on feet all day. This has been a fabulous product can recommend highly enough!
– C. Fairweather
Pros
Registered as an FDA medical device and is eligible for reimbursement from several US health insurance companies
Made from super soft bamboo fabric which reduces chance of getting stretch marks
Comes with hot/cold pack
Adjustable hook-and-loop strap helps you achieve the right fit
Cons
Can't adjust the level of compression
Have to be careful with Velcro closure
Might not be enough compression for some
Jill and Joey Maternity Belt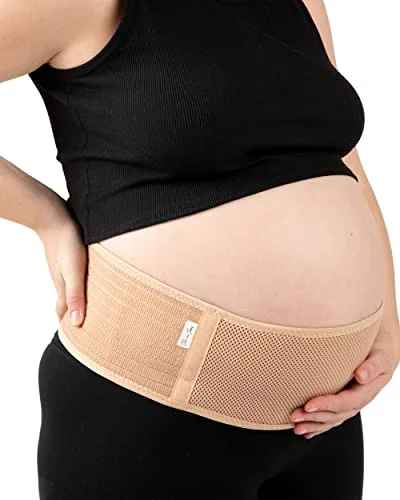 Some maternity belly support bands are thick and hefty, but the Jill & Joey Maternity Belt is anything but. It is made of breathable soft cotton and can stretch up to 45 inches. It is secured with a simple Velcro band. You may also adjust the belt to give your bump extra compression, which may assist reduce some of the tension on your back and hips.
Customer Reviews: 4.4 out of 5

I ordered this item because I am 25 weeks pregnant. I already had a bad back and hips. Being pregnant has just made it a whole lot worse. I can barely walk because now my sciatica is flaring. I've done tons of research to find something for simple for the 2nd trimester to use. This product is straight forward, does what it is intended to do and isn't uncomfortable to wear all day.
– R Lawrence

I wore this thing nearly every day of my pregnancy. It's the only one I bought so I don't have any comparison, but I've gotten to where I wouldn't go anywhere without it. It's simple but does the job! Will definitely keep it if we have another child!
– Sarah
Pros
Easy to put on and take off
Great quality
Affordable price
Cons
"One size fits all" sizing doesn't work for all bodies
Ingrid & Isabel Maternity Band
If you're looking for a simple yet effective solution for supporting your belly and back during pregnancy, this band is for you! Made from a soft and stretchy material, it promises a comfortable fit throughout the day. The built-in support band offers additional support to the back and hips, improving posture and reducing pressure. The adjustable straps ensure a custom fit, making this an excellent choice for expectant mothers.
Customer Reviews: 4.4 out of 5

Love the belly band! Not only does it let me wear my pre pregnancy clothes for a little bit longer, but it smooths everything out and actually helps relieve some pressure. It just compresses everything perfectly.
– Kaitlyn W

This belly band has been a life saver. It is incredibly comfortable. I am able to wear my pre-pregnancy clothes for now with this band. It isn't hot or makes me sweat. Great investment.
– Cassandra
Pros
Moms love that the material holds its shape well
Cons
Some moms noted that the bottom of the band can occasionally ride up
Bracoo Maternity Belt
Lastly, this band is made from a soft and breathable fabric. Wear this adjustable belt during pregnancy and postpartum for comfort and support. Made from soft, breathable fabric, it adjusts to accommodate a changing belly and provides varying levels of compression. It supports the lower back and relieves pelvic pressure by lifting the belly. Ideal for active expectant mothers
Customer Reviews: 4.2 out of 5

After searching around quite a bit for a easy to use and "simple" looking maternity support belt, I purchased this product. Very durable (lasted me two pregnancies, 3 years apart) washable, comfortable for extended wear. I continued to use it post partum as well and the occasional low back pain.
– Beenice

I am currently 8 and 1/2 months pregnant and I'm definitely feeling the pressure of the baby on my bladder & I always feel I have to hold my stomach. But, with this I don't have to it does the work for me and it relieves the pressure off of my back . I highly recommend this especially when I'm doing housework!! The Velcro is really strong and stays on as long as you like it to.
– NCBound101
Pros
Prenatal and postpartum design
Fabric is soft and stretchy
Can be worn discreetly under clothing
Cons
Limited lower back support
Velcro durability is a concern among some customers
AZMED Maternity Belly Band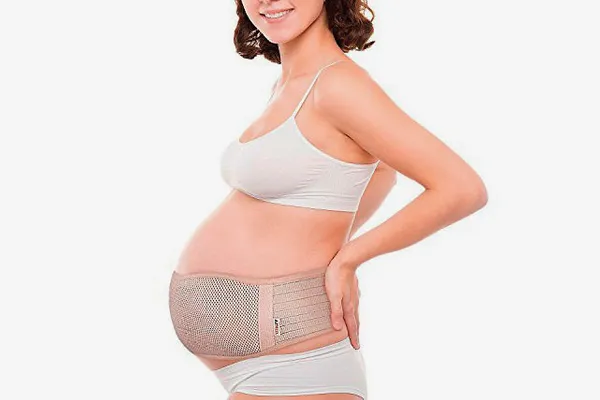 The AZMED pregnancy belly band is a must-have for expectant mothers. It is highly adjustable, fits all sizes and expands with you as your pregnancy progresses. It helps in joint stabilization, reduces abdominal pressure and eases back and pelvic pain. Additionally, it corrects posture and reduces leg swelling. With over 24,000 glowing reviews from satisfied pregnant women, it's no surprise that this maternity belly band is a popular choice.
Customer Reviews: 4.3 out of 5

Gentle support for my 4 month bump (expecting baby #5, so things are way more relaxed). Helps relieve my round ligament aches. And I felt able to stand up straighter. When I'm feeling fatigued or achy in my core, I put this on and get instant relief. Took a nap in it just fine. I wear it over top the full-panel of my pants and it helps hold those up too. To use the restroom, I just pull it up to my ribs because the Velcro is so strong I don't like to rip it open until I'm done with it for the day. Normally I'm an 8/Medium, and the belt wrapped around me fine with LOADS of extra room if I need any later. – Chickadees

I wouldn't say I can feel the support while I am wearing, but there is a huge difference at the end of the day. I am expecting twins and I am 31 weeks. If I don't wear the belt, I can't walk by the end of the day and feel excruciating back pain. But if I wear the belt throughout the day, I feel much better in the evening. It works! – Kristinasv
Pros
Lightweight and breathable material
Cutbacks spinal pressure eminently
Can be hidden under clothing
Fits up to 46 inches
Affordable
Cons
One-size-fits-all might not actually fit all women
Not ideal for petite women
Pregnancy Support Belt Comparison Table
| | | | | |
| --- | --- | --- | --- | --- |
| Name | Size | Material | Colors | Colors |
| OPTP | S – XL | Neoprene | Tan | Hand wash |
| Gabrialla | S – XXL | Polyester 80%, Lycra 20% | White, Black, Beige (With Pink Trim) | Hand Wash |
| Baby Belly | S – XXL | Neoprene, Nylon, Spandex | Black | Machine Wash gentle or hand wash |
| NEOtech Care | S -XXL | Elastic fabric | Beige, Black, Ivory | Hand wash |
| BABYGO | S – XXL | Polyester, Elastane | Black, White, Beige | Hand wash |
| Belly Bandit | S – XL | Bamboo, Spandex | Cream. Black | Hand wash |
| Jill and Joey | M/L | Cotton | Black, Beige | Machine wash gentle or hand wash |
| Ingrid & Isabel | 0 – 24 | Spandex, Nylon | Black, Nude, White | Machine wash gentle or hand wash |
| Bracoo | One size | Polyester, Elastic, Nylon | Pink | Hand wash |
| AZMED | One size | Elastic mesh | Beige | Machine wash gentle or hand wash |
Are There any Alternatives to Pregnancy Support Belt?
If you're hesitant to spend money on one of the above items, you may make your own out of a scarf or sarong.
Here's a simple method to tie a sarong during pregnancy:
Hold the sarong at your hip level with one end longer than the other.
Wrap the longer end around your waist and secure it with a knot at one hip.
Take the other end of the sarong and wrap it around your waist, covering the knot and your belly.
Tie the ends of the sarong in a knot at your other hip.
Adjust the fit as needed, making sure the knot is comfortable and secure.
It's best to choose a comfortable, lightweight fabric and make sure the knot doesn't put too much pressure on your belly.
Conclusion
The pregnancy support belt is a must-have for expectant mothers, offering comfort and support during the joyous yet challenging journey of pregnancy. Choose the best pregnancy support belt that suits your needs and ensure a burst of comfort throughout your pregnancy.
Related: Pregnancy Belt – Function, Types and When to Buy ?
Frequently Asked Questions
What Type of Pain Does a Pregnancy Support Belt Help Alleviate?
Pregnancy belts can be quite helpful in managing lower back pain, hip discomfort, and stomach pain during pregnancy. They are frequently simple wraps that wrap around the back and belly to give compression, pressure distribution, and support for the joints and developing tummy.
When is the Best Time to Start Using a Pregnancy Support Belt During Pregnancy?
The average recommended time to start using a pregnancy support belt is around 20 weeks.
How Does Wearing a Pregnancy Support Belt Impact Posture and Body Alignment?
A pregnant support belt can assist to disperse the extra weight in your abdomen while also improving your posture and body alignment and reducing discomfort.
Is it Necessary to Wear a Pregnancy Support Belt All Day, or Can it be Worn as Needed?
It is recommended not to wear a pregnancy support band for more than two to three hours at a time. Prolonged use of the band for extended periods of time can potentially lead to weakened muscles and other long-term negative effects.
Are There Any Contraindications or Precautions to Using a Pregnancy Support Belt?
Pregnancy support belts are specifically designed so that they are safe to wear in pregnancy and do not harm your baby. The main downside of support belts is that they cannot be worn for long periods of time as they may affect blood flow to the abdomen, and can also cause pain and heartburn.
Can a Pregnancy Support Belt be Worn Over Clothing or Does it Need to be Worn Directly Against the Skin?
Pregnancy support belts are stiff belts that wrap around the belly during pregnancy to assist support the lower back, pelvis, hips, and abdomen. Belly belts are often worn over clothing, however some women wear them underneath.
What are the Key Factors to Consider When Choosing the Best Pregnancy Support Belt for Your Needs?
The support band should not be too tight or too unpleasant. It should apply modest compression to your abdomen and around your back. If your pregnancy support band is overly tight, it might compress your organs, causing indigestion and heartburn, as well as affecting your circulation and blood pressure.