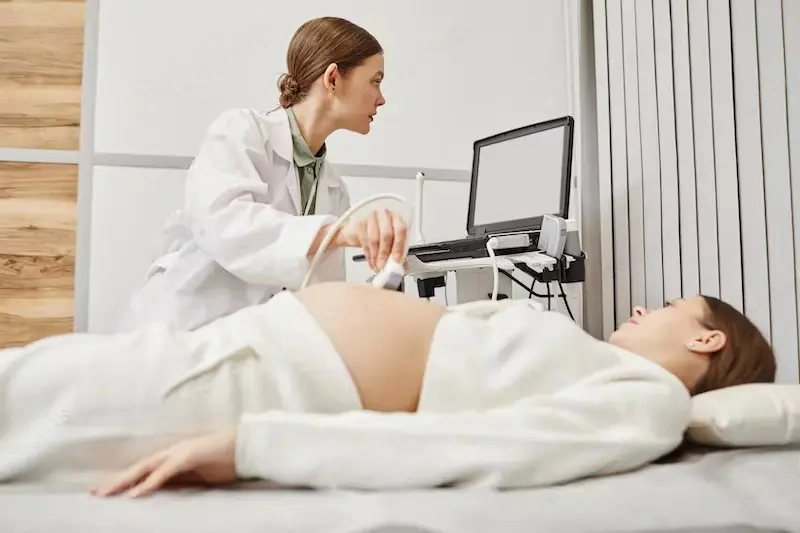 We will today discuss about the schedule for pregnancy checkup and test guide that will help you make the right decisions about health care before and after your child is born.
When you know that you are pregnant, your regular routine changes into a new routine, for example, your body will change, you will have extreme moods, and daily prenatal visits will be added to your routine. There's an air of excitement about these visits. You will discover your estimated due date of delivery and hear your baby's heartbeat for the first time. Your doctor will also track your health and the health of your baby, and provide nutrition through your prenatal care. They help to detect any conditions that could affect them, such as pregnancy complications or genetic disorders.
Affiliate Disclaimer: PregnancyBoss.com is a participant in the Amazon Services LLC Associates Program, an affiliate advertising program designed to provide a means for sites to earn advertising fees by advertising and linking to Amazon.com. This means that if you make a purchase through certain links on our site, we may earn a commission. This comes at no extra cost to you and helps support PregnancyBoss.com. We only recommend products we trust. Thank you for your support!
Related: Wondfo Ovulation Test
Schedule For Pregnancy Checkup
Your doctor would probably want to see you on the following recommended schedule for pregnancy checkup for a safe pregnancy:
Weeks 4 to 28: 1 prenatal visit per month.
Weeks 28 to 36: 1 prenatal visit every two weeks.
Weeks 36 to 40: 1 weekly prenatal visit until the due date
Always try to stick to your schedule for pregnancy checkups so that if there is an issue with you or your baby, your doctor will detect it early and then the doctor will treat it on time and make sure that your pregnancy is as healthy as possible.
Related: Clearblue Ovulation Test
Routine Prenatal Tests
The doctor suggests some prenatal testing for all pregnant women. There are various pregnancy tests that you can perform in the first, second, and third trimesters of pregnancy. Some tests are used to check your fitness, and others get details about your unborn baby.
We will discuss what are the important test that is needed in each pregnancy.
First Prenatal Test
Confirmation of becoming pregnant
Calculate how many weeks you are pregnant and what your due date is going to be. When the date is not clear, you will be given an ultrasound scan
Check your blood pressure, height, and weight
A complete blood test to check your blood type and to check for anemia, immunity to rubella, hepatitis B, hepatitis C, syphilis, chlamydia, and HIV
Urine examination, to see if you have an infection of the bladder or urinary tract
Down syndrome test
Cervical screening for human papillomavirus (HPV)
A test to check either there is vitamin D deficiency or not
Prenatal Test During Weeks 4 to 28
Doctor check your blood pressure
Measuring the tummy (abdominal palpation) to test the development of the baby
Checking your and your baby's health
Verifying the pulse and movements of your baby
Talking about your birth plan
Also, do the blood glucose test for diabetes
A blood test to check for anemia and platelet levels in your blood. Your healthcare provider will also search for syphilis, hepatitis B, hepatitis C, and HIV again.
Prescribe prenatal multivitamins along with folic acid supplements, magnesium, zinc
Prenatal Test During Weeks 28 to 36
Check blood pressure for maintenance
Measuring the tummy (abdominal palpation) to test the development of the baby
Verifying the pulse and movements of your baby
Urine testing if you have signs of an infection of the urinary tract or increased blood pressure
Doing vaginal swab to check group B streptococcus (GBS)
A second anti-D immunoglobulin injection may be given if your blood type is Rh-negative.
Presentation evaluation (which way up your baby is) and station evaluation (how far down the head of the baby has moved into your pelvis)
Prenatal Test During Weeks 36 to 40
Check the condition of your baby
Blood pressure checkup
Blood glucose test
Ultrasound to check baby's movement and position
Verifying heartbeat of the baby
Urine test
Weight checkup
Related: What Is A Molar Pregnancy?
Additional Tests
In addition to the above-listed tests, additional tests may be required to check the condition of late delivery. If your pregnancy is late and your condition is critical, your doctor will ask for some further tests to determine the condition.
Related: How to Get Relief from Pregnancy Rash?
Fetal Monitoring
Your doctor may want to monitor the fetal heart rate and other functions during late pregnancy and delivery. A way of checking the rate and rhythm of the fetal heartbeat is fetal heart rate monitoring. The fetal heart rate is between 120 and 160 beats per minute, on average. As the fetus responds to conditions in the uterus, this rate may change. An irregular fetal heart rate or pattern can mean that not enough oxygen is obtained by the fetus that may indicate other problems. An irregular pattern can also mean that the delivery through an emergency cesarean section is required.
Related: 10 Comfortable Pregnancy Sex Positions
Chorionic Villus Sampling (CVS)
CVS is a pregnancy procedure where a small portion of the placenta of the child is retrieved for checking the chromosome issues such as Down syndrome or other anomalies. This tissue includes the same genetic material as the embryo, and chromosomal anomalies and any other genetic problems can be screened for. Depending on family history and the availability of lab testing at the time of the treatment, testing is possible for other genetic abnormalities and disorders. CVS does not have information on open neural tube defects, unlike amniocentesis. This is normally performed between 10 and 11 weeks of pregnancy, or if an issue is suspected, at another time.
Noninvasive Prenatal Testing (NIPT)
This test is very effective to identify Down syndrome and any other abnormalities. It is carried out between the 11 weeks of pregnancy and the 13 weeks and 6 days of pregnancy.
Nuchal Translucency Scan (NT scan)
It looks at the back of the neck of your baby to determine the possibility of getting Down syndrome in your baby. This procedure is done over 11 weeks, 13 weeks, and 6 days, and can be performed at the same time as the ultrasound date.
Amniocentesis
A small amount of amniotic fluid (fluid around the fetus) is obtained to test if the baby has a chromosome defect or other abnormality. This is normally done for 15-18 weeks, or if a problem is found at another time.
Alpha-Fetoprotein (AFP) Test
During pregnancy, this blood test analyses the amount of AFP in your blood. AFP is a protein that is found in the fluid surrounding the fetus (amniotic fluid) that is naturally formed by the fetal liver. It crosses and joins the blood through the placenta.
Estriol
This is a hormone that the placenta produces. It is found in maternal blood and used for assessing fetal health.
Related: Why Pregnancy Not Happening? 14 Possible Reasons
Conclusion
Don't let your pregnancy be a guessing game – schedule for pregnancy checkups and stay on top of your and your baby's health. Your doctor is your partner in this journey, so don't hesitate to reach out and make sure you're both on the path to a happy and healthy arrival. Mark your calendar and let's make sure your pregnancy is nothing short of spectacular!